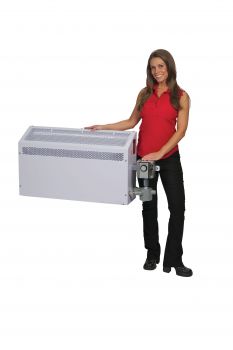 Explosion-Proof Room Heater (APEK1002)
Shipping:
Truck

Brochure
For pricing and purchasing, please create an account or log in.
Description
A tropical paradise awaits your paint!
Converting to temperature sensitive waterborne paints presents a challenge to Body Shops that don't have enough heat. Toners can freeze during a cold spell because the principle solvent is water. It is therefore important to maintain storage temperatures above freezing.
Fillon heaters heat rooms quickly and safely…. The toners are ready-to-use as soon as you walk into the mix-room. While the outside surface of the heater is warm, it's never hot enough to burn. Fillon heaters will also help reduce utility costs by allowing the mix-room to be regulated to a safe temperature range during off-hours.
Capable of heating mixing rooms up to 10' x 20' (3m x 6m) in size with a maximum ceiling height of 8'.
1,800 Watts, 15 amps, 120V/60Hz / Explosion-Proof Class 1, Group D and UL/CSA approved.
Includes 3 keyhole cut-outs for easy wall-mounting.
Air vents are located on the front and top of the unit for more efficient heat circulation.
Dimensions: L: 42" x W: 8 15/16" x H: 20 1/16" (L: 106.68 cm x W: 48.10 cm x H: 50.95 cm)
**Please note: Installation must be completed by a qualified electrician only. Faulty installations are not covered under warranty.**