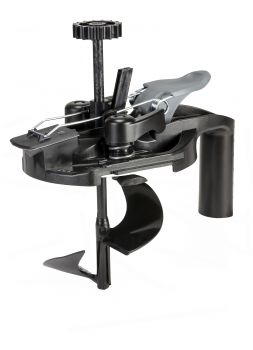 A55 Quart/Liter Mixing Lid (BNBA1006/6)
Shipping:
UPS

Brochure
For pricing and purchasing, please create an account or log in.
Description
Treat yourself to an upgrade!
Our latest A55 mixing lids now include the same patented featues as our best-selling X5 mixing lids including anti-adhesive skates for reducing paint build-up around the pouring spout, plus an innovative central shaft seal that virtually eliminates 'oozing' common to waterborne paints, which tend to creep upwards and spill onto the lid body during warmer temperatures.
Universal multi-position thumb levers to suit each painters preferred grip.
Anti-adhesive skates to reduce paint residue and improve dosing performance.
Patented central seal to reduce oozing especially with waterborne and low VOC paints.
Longer (extended) handles for a better grip especially with smaller 0.5-liter cans.
Smooth dispensing action with pinpoint controlled pouring capabilities.
Available in sizes 0.5-liter, quart/liter, and gallon/3.5-liter.
Compatible with solvent and waterborne paints.
Shipped fully-assembled for added convenience.