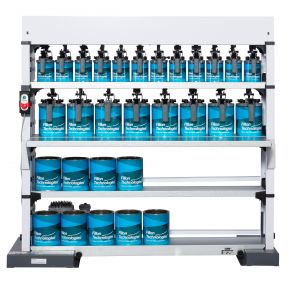 Description
The Mini-Mix 150 Plus is a new version of our original system, which has been a staple in the wood coatings industry as well as being used for smaller paint lines, and primers.
Mini-Mix Plus features a snap-together modular design for easier shelf configurations and faster assembly. Each mixing position has an over-torque clutch to protect against overloading, and the cans are physically grabbed and held in place to prevent rejection during operation.
UL/CSA Explosion-proof motor and timer can be programmed to run automatically (twice daily) according to the shop's preferred schedule including weekends, holidays, and vacations.
The motor's slow-start feature protects the belts and the machine components from premature wear due to aggressive start-up torque.
The pedestal option includes two storage shelves for toners and shop supplies.
Patented Quick-Link technology for sure-fire mixing without needing to visually inspect cans to ensure engagment.
The motor assembly now includes a pre-installed Explosion-proof junction box for easier electrical installations.
Mixing shelves are available as 8-place gallon/3.5-liter or 12-place quart/liter. Order a Mini-Mix 150 Plus Base and motor assembly and up to 6 mixing shelves to reach the desired configuration.
Mini-Mix 150 Plus Base Includes: Base unit with 8-gallon/3.5-liter mixing places, floor sections, and Header Board. (L 64.5" x H 16" x D 20.5"). The optional pedestal and work surface as shown in the photo is sold seperately