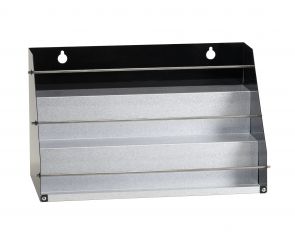 Description
A Professional Painter's 'spice rack' for Pearls.
Body Shop painters will tell you that knowing where everything's located is the real key to productivity and success. This universal holder is ideal for small oblong bottles such those supplied with BASF's Glasurit 100 and Baslac paint lines. If you are unsure whether your bottles might fit, contact us for assistance.
Features:
Shipped fully assembled to use right from the box.
Can be placed on a tabletop or mounted to a wall.
Bright powder coated finish plus Alu/Zinc steps for easier cleaning.
One-way bottle positioning for faster identifying and easier removal.
Dimensions: W18.5" H11" x D9.75"
Net Weight: 8 lbs.