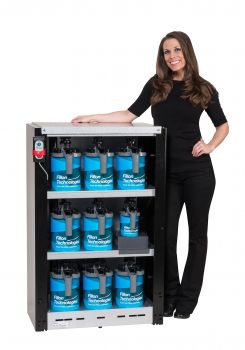 Primer Plus 60 Mixing Machine (ARHV1205)
Shipping:
Truck

Brochure
For pricing and purchasing, please create an account or log in.
Description
The Primer Plus 60 mixing machine is a new concept that provides a 'system' approach for preparing primers and hardeners.
The stand-alone systems includes 9 x gallon mixing places plus ample storage for hardeners. Painters will be better organized and more productive with having all the components self-contained in one small work area.
Primer Plus addresses critical foaming issues caused from over-stirring primers on traditional mixing machines. Most require only 5-minutes of agitation but are typically getting 15-minutes (often several times daily) on traditional machines. It enables the end-user to program and set the timer to run (twice daily) according to the exact specifications set by the paint manufacturer. Primer Plus will also operate on weekends/holidays and the first mixing cycle can be programmed to begin before the painters arrive at the shop...No more downtime waiting for primers to be stirred!
The top of the machine features an Alu/Zinc work surface that functions as a table for paint preparation. In addition, the housing is fully-enclosed on three sides to protect poducts from overspray and shop debris. Primer Plus is an incredible space-saving design that takes up only 26.5" of floor space. (L26.5" x W16" x H44").
*The second 15-minute mixing cycle begins exactly 5 hours and 45 minutes after the first cycle has completed.