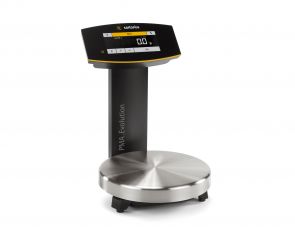 Sartorius Evolution Scale (JDAB1011)
Shipping:
UPS

Brochure
For pricing and purchasing, please create an account or log in.
Description
Efficient and easy paint mixing.
The PMA.Evolution introduces a host of new features including superior readability- both from an angle and distance along with sensor touch technology to make preparing paint easier, faster, and more reliable.
Installation is even easier because of a new one-cable USB solution for both the power/data, and the driver is Microsoft© certified for a faster "plug and play" install. The German manufactured precision-made scale is Explosion-Proof and compliant with FM/CSA (Zone 1) Class 1, Division 1, and Group D for hazardous environments.
7,500 Gram capacity with dual range weighing. Can be manually switched from 0.1 to 0.05 grams (up to a max range of 999.95 grams).
New modern Touch-screen with solvent resistant glass display for easier cleaning.
Sensor touch key functionality with visual feedback.
Bargraph indicator with zoon functionality for dosing assistance.
Over-pour correction software and fractional weighing.
The Evolution can be calibrated with either a 1, 2 or 5 kg weight (by the end-user).
Instant "lock" function on keypad to prevent paint theft and unauthorized use. Can also be bolted to a work bench for greater security.
Replacement weighing pan, post, and display covers are available to keep the scale clean from paint spills and debris.