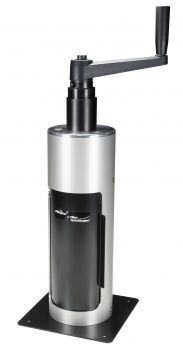 Description
Never, Ever, EVER Clean Again!
Enjoy the same benefits as our standard Fill-One but inject the paint using a manual crank instead of a compressor. Filling takes seconds and you'll NEVER have to clean the machine.
The Manual Fill-One was introduced primarily for body shops and mobile repair technicians who fill smaller quantities of aerosols, and retail stores that don't want the background noise of an air-compressor running. One of the best benefits of the manual version is that there are no internal seals or wearable components. It is literally a 'plug and play' system. The filling pricess takes only about 20-seconds...Turn the handle until it stops (about 12 or 13 turns) and then reverse the process.
The Manual Fill-One+ introduces a more durable two-piece composite sleeve in place of the previous rubber boot to better protect the hand crank, and also includes a universal Aluminum cup for both inside and outside clipping aerosols. High-quality aerosols offer real convenience that lends itself to time and cost-savings benefits for professional repairers.
No Cleaning after filling aerosol cans.
Seconds to fill with no loss of paint product.
Compact system- about the size of a coffee maker.
Paint is permanently sealed into the cap, serving as a color indicator.
No compressor required- a simple, hand crank operation.
Safe and surefire- no guessing about the number of strokes.