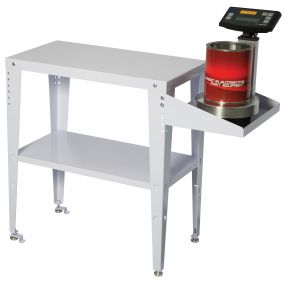 TB66 Adjustable Scale Table (CAAZ1003)
Shipping:
UPS

Brochure
For pricing and purchasing, please create an account or log in.
Description
Ergonomic design reduces tendon strain
The TB66 Adjustable Scale Table will improve the ergonomics of pouring paint- even
heavy viscosity gallons that can weigh up to 30-lbs. Our concept allows the scale to be adjusted to a lower and more comfortable height to eliminate undue strain on elbow and shoulder tendons.
New concept table that focuses on improved ergonomics for pouring paint easier
Adjustable leveling feet for greater stability
Floor mounting brackets for safety
Easy-to-assemble- takes only a few minutes.
Dimensions: Table (L 28" x W 15" x H 31") Scale Platform (L11 5/8" x W 15" x H 4 ¼").